Super Screen Capture - You can capture screenshots of any part from your desktop screen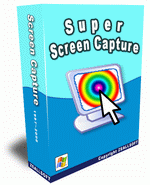 Super Screen Capture is an all-in-one software for free screen recorder software. You can capture screen in many ways, including full screen capture, region capture, window capture, scroll capture, directx capture, video screen capture, audio capture and etc. You can choose many kinds of output ways, including clipboard, printer, email, editor tool, temp folder, and all popular formats. Super Screen Capture has an easy-to-use and intuitive interface. Whatever you can see on your screen, Super Screen Capture will easily and fastest screen recording for your immediate use. It will especially suit making demos, tutorials, and training videos.

Support: Win XP, WinVista, Win 7, Win 8 - Size: 3.10MB What's new
Capture Screenshot just use 3 steps!
1. Capture Screen from Desktop Windows, Rectangle Screen, Scrolling Webpage
Record Video/Audio from desktop
| | | | | |
| --- | --- | --- | --- | --- |
| Capture Window Screen | Capture Region Screen | Capture Scrolling Webpage or Screen | Record Screen Video | Record Audio |
| | | | | |
2. Automatic Add Your Special WaterMark to Screenshot
3. Automatic Output Screenshot to More Than 7 Ways
Capture Screen to Bmp, Jpg, Png, Gif file
Capture Screen
to Microsoft Paint
Capture Screen
to Printer
Capture Screen
to E-mail
Capture Screen
to Clipboard
Capture Screen
to Microsoft Word
Capture Screen
to Microsoft PowerPoint
View Video Tutorials on YouTube
Features and Benefits
More Than 10 Ways to Capture
Support full screen capture, sharp capture, windows capture, directx capture, video screen capture, sound record and etc.
Easy-to-Use and Intuitive Interface.
You can arrange, resize and custom any intuitive interface.
Powerful Image Editing Tools.
Super Screen Capture has an advanced image editing utility.
More Than 8 Ways to Output.
You can save image to file, clipboard, printer, email, editor, temp folder, image Editing tool.
Setup Custom Hotkeys for Any Way.
You can assign hotkeys to the different functions.
Support all popular Internet formats.
Such as: BMP, JPG, GIF, PNG and etc.
Unique Screen Capture Software


Different from other screen capture software, easily and quickly.
Super Screen Capture 6.0 Released!
User Reviews
"Very easy and powerful Screen Capture Software! I was using the built-in screen capture for Windows until I stumbled across this tools. It is so much better. The auto-scrolling window capture feature rocks." - Jack
"Wonderful Screen Capture Program. Whatever you can see on your screen, It will easily capture for your immediate use. Many very nice features in capturing. A great buy!" - Mary
"The screen capture software is very simple and easy to understand. I really dig this tools. I use it many times a day. I need it almost daily in my job as web editor. The video feature is a good function" - David
What is screen capture?
Copy anything screen by any software so you can print, save, email or paste it.

What is video capture?
Record screen action (mouse clicks, animation or digital video) to replay later.

What's audio capture?
Record audio playing through your speakers to replay later.
Record Webcam Software Related Topics: Record Video Webcam, Record Webcam Software
Capturing Streaming Audio Software Related Topics: Record Streaming Audio, Capture Streaming
---